Some of the interesting things we've discovered about

Lady Gaga

's new album 'ARTPOP' is that she loves having sex, she has a love-hate relationship with drugs, and fame makes her lonely. It's an electronic indie album where she takes us on a personal journey, opening up about her fears, demons, desires and lifestyle.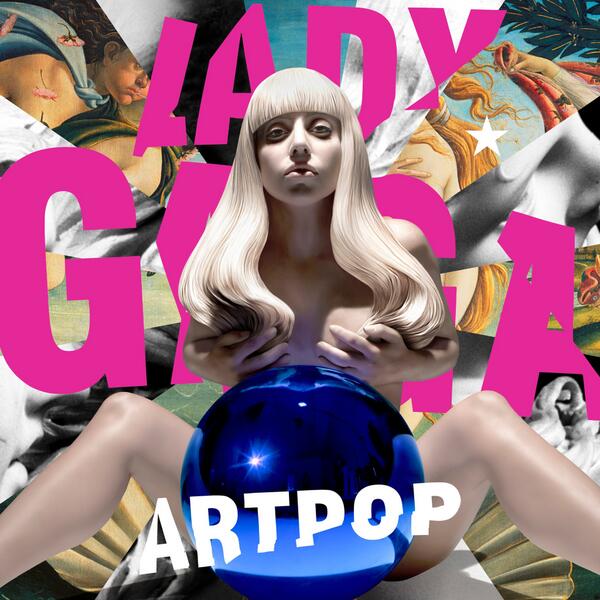 The project, which drops tomorrow (November 11th), boasts production from longterm producer RedOne, DJ White Shadow, DJ Zedd, will.i.am and David Guetta. It sees the singer exploring EDM, rock, electronic, Hip Hop, R&B and pop genres all rolled into one. Read my thoughts on the album below!
1. Aura:
Middle Eastern influences meets electronic beats on this statement record about women not being any less empowered by wearing the veil should she choose to. A not so typical EDM number as the breakdowns dominate the verses instead of the chorus. A chorus soaked down with outstanding vocals. Gaga sounds really angry in the verses, but that may be intentional.
Rating: 3/5
2. Venus:
Gaga is reportedly planning to perform in space in 2015. No wonder she envisages hopping on a rocket and taking off to planet 'Venus'. Passion soars inside this gravity-defying atmosphere. A catchy and spacey disco-driven pop record with fine elements of 80s techno and some funk. A bit too overproduced to encounter maximum enjoyment for my benefit.
Rating: 2/5
3. G.U.Y. (Girl Under You):
Retro, space funk beat alert! Gaga likes to submit to a man because strength through submission defines her. With a suggestive and submissive concept and a popping pulsating beat, this is probably one of Gaga's best sex anthems. My soft spot for it stems from the fact that it takes me back to 'Fame' Gaga. The pre-chorus sounds similar to the one in 'LoveGame' so that may explain it. DJ Zedd did a very nice job here.
Rating: 3.5/5
4. Sex Dreams:
Gaga's self-proclaimed bisexuality has her lusting after a chick. She's singing about her desire to hate-fuck Katy Perry! First time hearing this synth-pop number during her iTunes set and I got Janet and some Prince vibes from it immediately. A sexual concoction of sultry funk, 80s synth and contemporary EDM. Another one for the dance floor. If she released it as a single tomorrow, it would be a hit!
Rating: 3.5/5
5. Jewels & Drugs:
First forray into trap music sees Gaga tapping into her trilled out urban side. Some illegal substances and a whole lot of love will gratify her as she lays out her cards. This Hip Hop banger is straight up ratchet twerk music that would make even Miley Cyrus proud! Unfortunately, this is to Gaga what 'Triumphant' is to Mariah Carey. Sounding like a guest amongst the rap brigade, on her own damn song. Gaga's first stab at rhyming has her sounding like Gwen Stefani and Kreayshawn. And despite showing off Gaga's artistic diversity, this is just too mixtape sounding for me to care.
Rating: 2/5
6. MANiCURE:
Standout number comprising of a larger than life arrangement with buoyant handclaps, funk-filled rock guitars and threarical stagey vocals. It's very rock 'n' roll as she embraces being a strong woman. Not an obvious single choice from what I can tell, but when has Gaga ever cared about chart positions?
Rating: 3.5/5
7. Do What U Want:
Midtempo electro-pop dance record combined with some R&B elements. Gaga exchanges some sexual banter with R. Kelly on the DJ White Shadow produced cut. Very reminiscent to Christina Aguilera's 'Your Body'. Yeah, I said it. So why wasn't THAT a hit? But yet, this IS? Great blend of vocals although Chris Brown would have been my preferred choice. Bring on the music video bitches!
Rating: 3/5
8. ARTPOP:
"My ARTPOP could mean anything", Gaga sings on the album's title track. Oh, we know! A midtempo 70s ballad that appears to be a very sombre electro-jazz affair. Not my cup of tea to be honest and I just got bored with it. Moving on to the next.
Rating: 1/5
9. Swine:
Shrieking, epic mess! Deafening keyboard sounds and thumping bass. My poor ears. My poor, poor fucking ears. Channels her angry side by cutting an "animal" out of her life and digs hard into the unnamed pig. Addresses the haters. Perez Hilton mate, you've been served!
Rating: 1/5
10. Donatella:
This is the bragging anthem dedicated to the upper class society who can actually afford to wear Donatella Versace clothes and feel hot and fabulous about themselves. So, if that's YOU, congratulations! Zedd's production on 'G.U.Y' was joyous, but this electro-charged tune has to be one of Gaga's worst songs, ever.
Rating: 1/5
11. Fashion!:
Pretty much a continuation of the previous track, with a runway chorus so infectious! Nice one, will.i.am. This 80s-combusting throwback is a shout-out to all the hottest brands out there. A handful of oldschool Madonna songs come to mind such as 'Vogue' and 'Material Girl'. The main song? 'Holiday'. There are pop riffs that are similar but let's not fan the flames with this Madge/Gaga feud okay?
Rating: 3/5
12. Mary Jane Holland:
The story of marijuana is told over a hard pop/rock beat, with Gaga's unapologetic admission: "I know that Mom and Dad think I'm a mess. But it's all right, because I am rich as piss". That's good and all, but as far as stoners anthems are concerned, I certainly don't get high on it.
Rating: 2/5
13. Dope:
Raspy vocals plague this confessional piece of theatrical pop. Giving up substance addiction for the benefit of fans and those she loves is the premise here. Another one of those compulsory piano ballads, with junky vocals and underwhelming production that I just don't desire to listen to again.
Rating: 1/5
14. Gypsy:
The non-fictional tale of Gaga's battle with loneliness dishes up the perfect combination of pop, rock, and EDM genres. Putting it simply, a haunting electropop rock ballad that unexpectedly transitions into a banger. The Madeon/RedOne-produced cut entails a sing-along chorus that is already made for the radio and polished enough to receive the single treatment. Good song.
Rating: 3.5/5
15. Applause:
The lead single is produced by DJ White Shadow, and sees Gaga delivering a message that is both cocky and brash. Uses the reliance of an ego-stroking audience to glorify her pop relevance. While 'Applause' is catchy, and pays homage to 80's pop, there's nothing groundbreaking about it. The messy Bowie-style verses are warbly, and haunting, but at least the chorus is pretty boss.
Rating: 2.5/5
Conclusion:
This album is not exceptional or outstanding. It was difficult to get into, even after a few listens. It was all a bit too try hard for my tastes. The last album was really repetitive but this one explored many a variety of sounds, even touching urban bases, which she didn't do the last time. Hardly an offensive effort but I expected better.
Overall rating: 2/5